Vets are being urged to spread the word about the dangers posed to cats by antifreeze.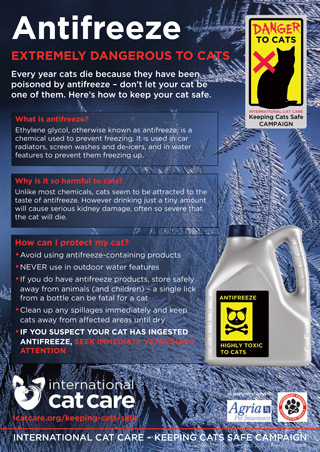 Ethylene glycol, known as antifreeze, is commonly used during the winter to prevent freezing. The chemical is deadly for cats.
iCatCare has produced a free downloadable antifreeze poster as part of its Keeping Cats Safe campaign, listing information and advice for owners.
A charity spokesman said: "Antifreeze is commonly used in car radiators, screenwash and de-icers, as well as in garden water features to stop them freezing over.
"Cats typically come into contact with antifreeze if the liquid is incorrectly stored or spilled, by drinking from a garden water feature with antifreeze added or, regrettably, from malicious poisonings."
Fatal attraction
Cats appear to be attracted to ethylene glycol – although not for its sweet taste as is often thought, as cats cannot taste "sweetness".
Drinking just a tiny amount will cause serious illness and even death, the charity says. Once ingested, ethylene glycol is broken down in the liver and this process produces other chemicals that cause severe and permanent damage to the cat's kidneys.
Treatment will not work if the cat has already developed kidney damage by the time it is seen by a vet – so it is vital owners are vigilant and act fast.