A vet practice has removed a "huge" urinary stone lodged in the urethra of a pug.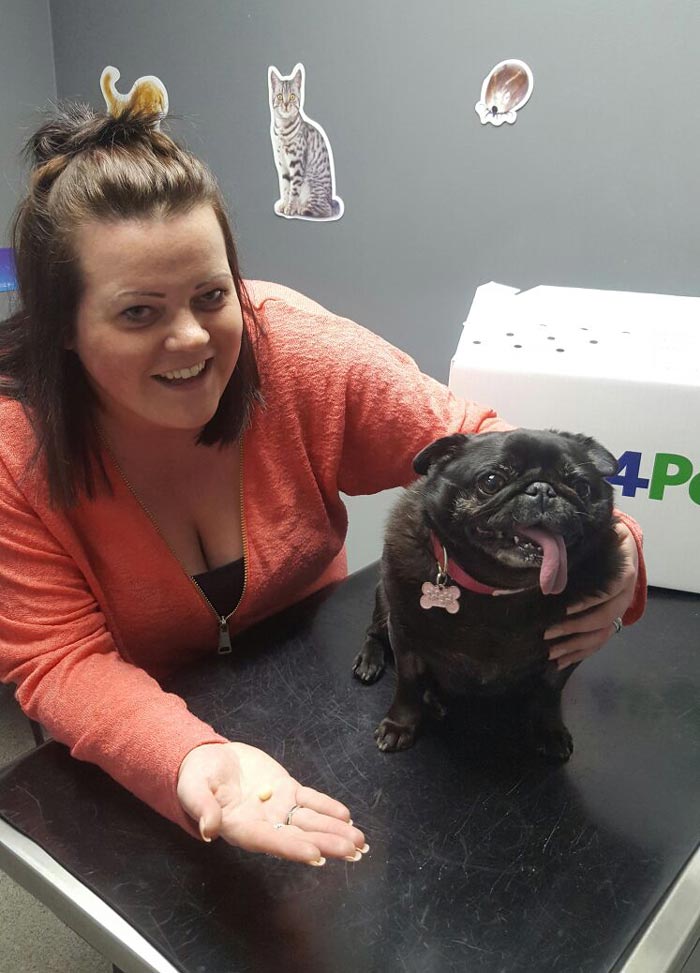 Peppa the pug presented at Vets4Pets in Bradford after displaying difficulty when trying to urinate.
Vets said the symptoms could point to cystitis, but also discussed the very real possibility of stones being present within the bladder, and the need for an ultrasound scan to check this.
Peppa's owners opted to give antibiotics and pain relief a chance and monitor her closely, but brought her back a few days later after noticing blood in her urine. She had also gone off her food.
Cystotomy
Vet Andy Chance performed an ultrasound, which revealed "quite a good number" of stones within the bladder, and it was decided to perform a cystotomy the following day.
Practice manager Karen Wood said: "Surgery went ahead as planned with multiple small, rounded white stones found within the bladder.
"The bladder was flushed several times to remove the stones and remaining grit.
"However, when it came to the urethra, we found a huge urinary stone lodged. Poor Peppa had to be catheterised and flushed back into the bladder to remove it. No wonder she was so uncomfortable."
Increase in urinary stones
She continued: "Here in practice we seem to be seeing an increase in urinary stones in dogs. Some owners genuinely didn't know dogs could get urinary stones.
"These can be avoided by providing the correct diet and looking out for those certain symptoms, such as an increase in frequency of urination, trying to urinate but not passing anything, and blood in the urine."
Peppa has since made a full recovery and is back to her normal self.