Residents of London Zoo's Penguin Beach pile on the pounds ahead of summer moult.
It looks like the porky penguins at London Zoo know something the rest of us don't.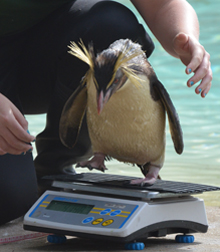 Wind and rain are hardly the best signs that the Great British summer is finally underway, but Ricky the Rockhopper and the rest of his Penguin Beach pals clearly have other ideas.   
    
Because, over the past few weeks, the 50-strong colony at the zoo's popular exhibit have started piling on the pounds ready for their annual moult, which takes place every summer.
All penguins are weighed weekly – hopping on the scales before diving into their pool for a morning swim – so their keepers can monitor their health and predict when the penguins will begin their moult.
Head of birds Adrian Walls said: "While most people put themselves on a strict diet in preparation for a summer on the beach, penguins are the exact opposite and do everything they can to fatten themselves up.
"We trained the penguins to jump on the scales for us, so we could estimate when the moult would begin, and we've noticed Ricky the Rockhopper and co are all looking more rotund – a sure sign that summer is on the way."
The old feathers stay in place until the new feathers start coming through, so the usually-pristine penguins can look quite scruffy during the moulting process.
Adrian added: "Some of our penguins are really vain characters and hide behind their flippers when they're looking a bit bald."
The penguins spend more time on land while they lose their waterproof layer, but as they all moult at slightly different stages, visitors to ZSL London Zoo are guaranteed to see those with their brand new feathers showing off in the two-metre deep pool during the daily Penguin Beach Live! talks.