Meet Jingles. Abandoned weeks before Christmas last year, 12 months on he is back to full health and ready for a fresh start.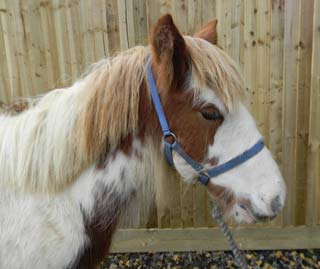 A woman tending her own horses in a field in Ashford, Kent on 4 December 2015 found the skewbald pony. He was emaciated, and was suffering from worms and lice.
RSPCA animal welfare officer Lynn White said: "When we arrived to help, Jingles had collapsed in the field and was so weak he couldn't get back to his feet.
"He was in a state so we got the vet out straight away. He was taken in by a local rescue centre before starting on a long road to recovery."
Specialist care
RSPCA equine rehoming officer Claudia Corner said it had taken months of specialist care and lots of tender loving care to nurse Jingles back to health.
She said: "Last Christmas, we didn't know what the future would hold for Jingles – we didn't even know if he'd make it to 2016.
"Now, one year on, the gorgeous boy is barely recognisable and is ready to find his first-ever home."
Fresh start
The gelding is expected to make 13hh. He is up-to-date with vaccinations and worming, has been microchipped and has a horse passport.
RSPCA staff would like him to go to a new owner with knowledge and experience of young ponies and for him to live somewhere he can be turned out with other horses.
Contact the equine rehoming team on 0300 123 8877 if you think you may be able to rehome Jingles.