A three-legged Anatolian shepherd called Haatchi has won the 'Top Dog' accolade in the Drontal Give Your Dog a Bone competition after beating off more than 650 other dogs.
Haatchi, a three-legged Anatolian shepherd, has won the 'Top Dog' award in the Give Your Dog a Bone competition.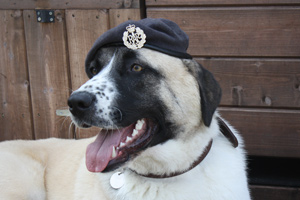 Haatchi won the competition – organised by Drontal to celebrate the launch of its Bone Shape Worming Tablets – after his owners entered him into the 'Most Heroic Pet' category. However, the panel of judges, including TV vet Emma Goodman-Milne, deemed Haatchi the best of the more than 650 entries across four categories and awarded him with the highest accolade of 'Top Dog'.
Back in February, the nine-month-old dog was tied to a railway line in north London. He was hit by a train and found, barely alive, by the local RSPCA. Haatchi has since been through several failed re-homing attempts and faced being put to sleep.
However, he has finally found a home in Basingstoke with Colleen Drummond, her fiance Will Howkins, and his six-year-old son Owen, who suffers from an extremely rare genetic condition called Schwartz-Jampal syndrome.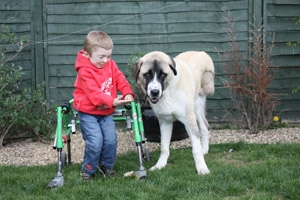 The syndrome, which causes Owen's muscles to be constantly tense and unable to relax, means he has had to have regular hospital visits since he was two. However, Mr Howkins claims Haatchi has given Owen a "new lease of life" and that the two of them are "rarely apart." He also believes, after seeing the positivity Haatchi has had on Owen's life, that the dog could have a role to play as a therapy dog for wounded veterans.
Speaking of the decision to crown Haatchi 'Top Dog', Dan White, group product manager at Bayer Animal Health said: "After a tough decision-making process, the competition panel decided Haatchi stood out. The remarkable story behind Haatchi's survival and the equally remarkable family into which he has been adopted, are a shining example of the special bond dogs share with their owners."
Haatchi won a £1,000 pet-friendly holiday, a video camera and £50 worth of Marks and Spencer vouchers, which have been donated by the family to the Make a Wish foundation.
For more details of the competition as well as pictures of other winners, visit the Give Your Dog a Bone website.