As the government considers whether to make microchipping compulsory, Petlog has released new statistics revealing the fact that almost four fifths of the country's stray dogs are not chipped.
As the government considers whether to make microchipping compulsory, microchip database Petlog has released new statistics revealing the shocking fact that almost four fifths of the country's stray dogs are not chipped.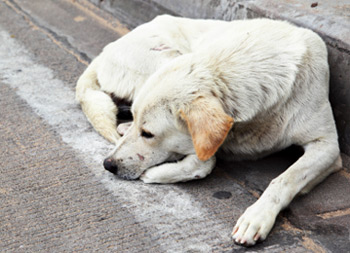 Petlog, the UK's largest microchip database, has 6.2 million pets registered (of which 4.6 million are dogs), yet stray dogs still remain a problem. In 2011 alone, around 126,000 stray dogs were handled by local authorities, of which 7,500 were put to sleep.
 
However, as the public consultation into compulsory microchipping nears its end (closes June 15), and National Microchipping Month begins, Petlog is keen to explain why compulsory microchipping will make a difference.
 
Petlog executive Celia Walsom said: "Quick reunification is the main aim of the microchip. Those that have their pet registered and have kept their contact information up to date are making sure that they can be reunited with their pet quickly and easily if they are found.
"Local authorities have released data that only 23% of the dogs they receive are microchipped – as around 60% of dogs in this country are microchipped it goes to show that many are being reunited with their owners before they reach the local authorities, via veterinary practices or other registered agents."
 
According to Petlog, many dog owners are unaware that there is a statutory £25+ fee for a stray dog to be returned from local authorities, which increases "dramatically" after 7 days. After this time, non-microchipped dogs that remain unclaimed may be rehomed or, in some cases, even put down.
Petlog wants to see microchipping made compulsory in the UK to help dog welfare organisations and local authorities, as well as dogs and their owners.
Ms Walsom explained: "Given that the average stay in a kennel for a dog is 30.5 days, there is a lot of time, money and resources spent looking after lost dogs."
"If every dog was microchipped, local authorities and welfare organisations would be able to quickly reunite the dogs with their rightful owners, which would reduce the time lost dogs are kenneled for, and would also reduce the number of dogs needing to be rehomed." 
 
Last year, The Kennel Club – in conjunction with the European Pet Network (EuroPetNet) – contacted twenty five microchip databases across Europe in order to examine the effects of compulsory microchipping.
 
Denmark (the first country to have introduced compulsory microchipping for dogs) requires that every puppy be microchipped before eight weeks of age, and no dog is allowed to leave its mother before that age. In 2010, according to the database in Denmark, there were no stray dogs, a couple of hundred dogs lost and very few abandoned.
 
According to the Kennel Club, the research did not take differing national attitudes towards compliance with the law into account, but compulsory microchipping also appears to have had a positive impact in Belgium, the Netherlands, Estonia, Switzerland and France.
 
National Microchipping Month takes place throughout June 2012.
Throughout June, Petlog customers can upgrade to Petlog Premium at a reduced rate (25% off).
 
Image ©iStockphoto.com/zoom-zoom