A practice is hoping to raise money for charity and find out what itsclients think it does well as it takes part in National CustomerService Week.
Eastcott Veterinary Clinic and Hospital in Swindon will be carrying out a prize-winning customer survey and raising cash for The Blue Cross animal charity with events to mark the week, organised and promoted by the Institute of Customer Service.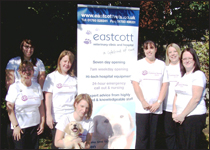 This year, National Customer Service Week is being run from October 5 to 11.
"We really wanted to be involved in National Customer Service Week as a way of reaffirming to our clients how important they are and how committed the team here at the hospital is to providing the highest levels of customer service to both themselves and their pets," said Jan Sangster, practice manager at Eastcott.
"We also wanted to recognise the dedication to customer care and the high level of achievement of nationally recognised customer service qualifications by the client care team in celebrating this week."
Sharon Teasdale, the client care team manager, said: "The client care team felt it was not only essential to highlight the priority that the practice gives to providing the best levels of customer service possible, but to also try to raise money for The Blue Cross at the same time.
"The team has decided to run a pet photo competition, the prize being a 30-minute professional photo session for the prize winner (and their owner) as well as a free 10 x 8 photo to keep."
Niki Burton, events manager at the practice, will be conducting the customer survey with all completed entries of the survey in with a chance of winning the prize of a years free supply of routine treatment, (vaccination, flea treatment and wormers) for their pet.