Petlog reminds pet owners to keep animals safe this firework season as it reveals there was a 40% increase in calls to its emergency line on November 5 last year.
A leading database for microchipped pets has reminded owners to keep their animals safe ahead of this year's firework season after it revealed there was a large increase in lost and found pet calls to its emergency line on bonfire night last year.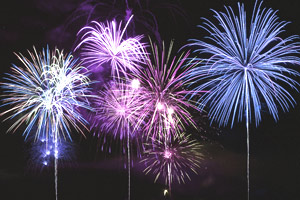 According to Petlog, on November 5, 2012, it received a 40% increase in the number of calls reporting pets as either missing by pet owners, or found by vets, welfare organisations or dog wardens, compared to the daily average during November.
The database said it is "no surprise" to learn of the increase as fireworks do "spook pets". Despite yearly reminders to keep pets safe inside, some still go missing. Petlog wants to ensure pet owners are well informed about what they can do to prevent their pet from straying and what they need to do if the worst does happen.
Petlog executive Celia Walsom said: "Each year we see a spike of activity on and around the November 5, so we want to help pet owners prepare thoroughly for bonfire night this year.
"This November we will be sharing tips with our customers about keeping their pets safe, such as walking dogs in daylight hours only, keeping the house secure at all times, putting on the TV or music for pets in the evening, not fussing over pets when the fireworks begin and more, through our social media channels.
"Most importantly, we will also be reminding owners of microchipped pets to make sure their contact details are up to date on their pet's microchip record."
Meanwhile, the RSPCA said it is "bracing itself" for another busy bonfire season. However, chief vet James Yeates has emphasised how treatable firework phobia is.
"I've spoken to countless people during my career who say they dread bonfire night and fireworks because of the distress it causes to their animals," he said.
"I've always told them that firework phobia is a treatable condition and their animals don't have to suffer such misery every year.
"Owners should plan ahead and speak to their vet about how to help their pets cope during the fireworks season. There are a number of therapy tools and products available."
Dr Yeates also urged anyone organising a fireworks display in the coming weeks to give plenty of notice to people in the area. "Most of the calls we get about fireworks relate to scared animals, so it would at least give owners the chance to prepare," he said.
"We also appeal for organisers to show some consideration and not let off any fireworks too close to places where animals are, such as livestock in fields, for example."