A cat that almost died after having boiling water poured over it has pulled through following intensive veterinary treatment from staff who were "horrified" by the attack.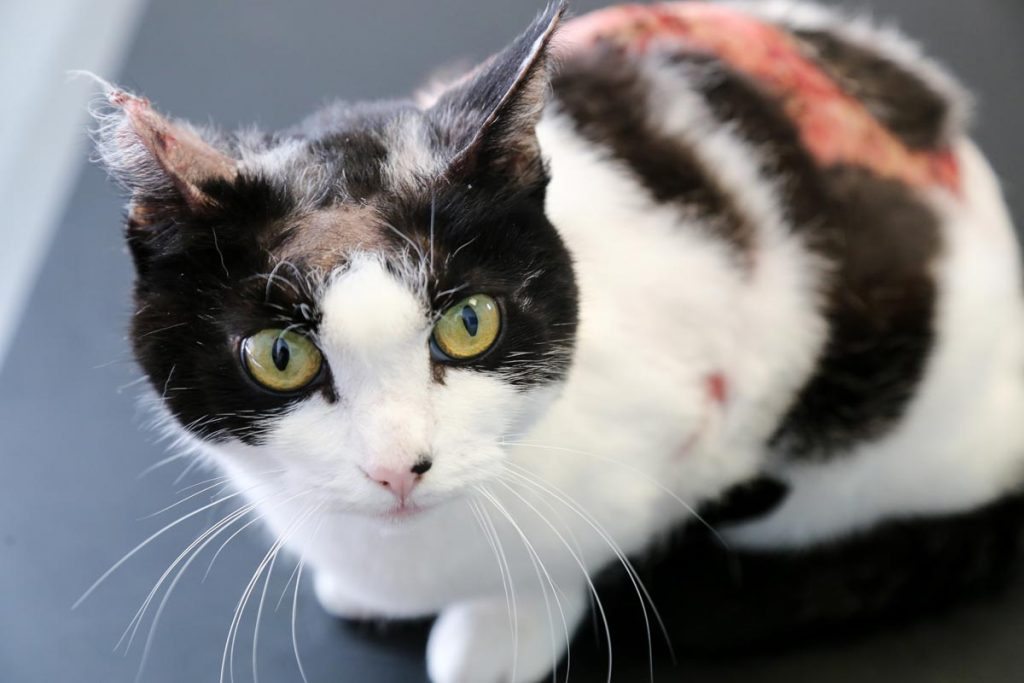 Seven-year-old cat Tuppence was rushed to the PDSA hospital in Bournemouth by her owner Vivienne Percy after the injured animal arrived home soaking wet and in obvious shock.
'Serious burns'
PDSA head nurse Stella Hughes said: "Initially, we suspected she had been involved in a road traffic collision, but as the wounds started to develop, it was clear she was instead suffering from serious burns.
"Her injuries were consistent with burns from boiling water, which is very worrying.
"We're horrified anyone might have done this intentionally to a helpless animal. The pain and suffering Tuppence has gone through, and the worry for her owner, is unimaginable."
Responding well
Staff are still managing Tuppence's wounds and she is making a steady recovery.
Miss Hughes said: "Tuppence is responding well to treatment, but extensive burns are always very difficult to manage.
"We initially feared we would have to amputate her right ear, but we're now hopeful we'll be able to save it.
"We expect her to make a full recovery, but she will be left with scarring and some of her fur may never grow back.
"We're also unsure how the mental trauma of the incident will affect her in the long-term."
Traumatised
Ms Percy said she had been left traumatised by the attack.
"I can't understand why anyone would do this to her," she said. "I've had so many sleepless nights since this happened – it's really upset me.
"Tuppence can't go outside anymore because of her injuries, but PDSA has been amazing – it has been there for me and Tuppence when we needed it and I can't tell you what that means to me."
Anyone with information about the attack on Tuppence is asked to contact Dorset Police via its website, by emailing 101@dorset.pnn.police.uk or by telephoning 101, quoting occurrence number 55170008963.
Alternatively, contact Crimestoppers anonymously on 0800 555111 or via its website.