Staff at Romford PDSA Pet Hospital had to retrieve one of Gru's minions from the stomach of a Staffordshire bull terrier that swallowed an entire Kinder Surprise – toy and all.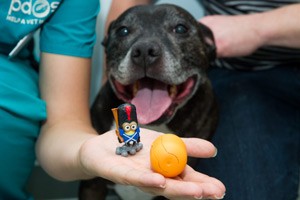 Eleven-year-old Staffie Chase helped himself to the despicable chocolate treat, bought for a family member.
Owner Terry Shad said: "Chase ate the Kinder egg whole, and although the chocolate didn't make him sick, we were all really worried that the plastic egg inside could be dangerous for him so I took him to PDSA in Romford."
The team at The Julie and Robert Breckman Centre PDSA PetAid hospital x-rayed Chase to find out where the object was in his body before operating to retrieve it, revealing the minion hidden within its plastic shell.
PDSA head nurse Sarah Burt said: "We took an x-ray which showed not only where the toy was in Chase's body, but we could also make out roughly what the toy was. Thankfully the egg and Minion toy were still in Chase's stomach, because if it had moved into his intestines it could have caused a blockage, which may have created worse problems and even been fatal.
"Surgery of this nature is very invasive so we had to keep Chase in overnight, but the operation went well and he should be back to his usual self again very soon."