A once rotund Jack Russell terrier from Sunderland has been named as the UK's pet slimming champion in the finals of PDSA's 2013 Pet Fit Club competition.
Terrier Ruby was one of 16 obese pets chosen to take part in the six-month slimming competition, which started in May 2013. Between them, the pets have lost a combined 57kg.
When she started the competition rescue dog Ruby was 50% overweight, tipping the scales at 9.1kg, and owner Angela admits Ruby was "spoiled rotten" since she was adopted as a malnourished stray. 
Ruby is now 6.2kg, within reach of her ideal weight of 6kg, and owner Angela said the difference in Ruby's energy levels and behaviour has been amazing since slimming down.
"She is like a completely different dog – so much happier and with loads more energy," she said. 
"We are absolutely delighted with the results and can't thank PDSA enough for helping Ruby to slim down. Winning the competition is wonderful, but the real prize is seeing Ruby enjoying a new lease of life, tearing around the garden and playing with her toys."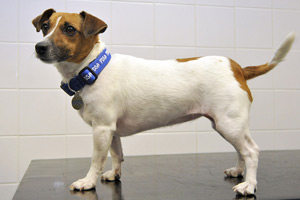 Pet Fit Club competition runners-up include:
second place – 34kg Edinburgh Staffordshire bull terrier TJ, which lost 23% of her bodyweight thanks to slimming with PDSA; and
third place – Glasgow Cocker Spaniel Nyah, which came into PDSA nearly 60% overweight, weighing more than 29kg. After a regime of diet and exercise she is now down to 22.9kg.   
For more information about Pet Fit Club and the rest of the PDSA slimmers visit
www.pdsa.org.uk