PDSA has launched a new out-of-hours service in Basildon, covering local fee-paying clients as well as its own charity patients. 
A leading veterinary charity has launched a new local out-of-hours (OOH) service for fee-paying clients.
The commercial venture is a first for PDSA, which has launched the PetAid Emergency service at its Basildon PetAid hospital.
While covering its own hospital's night work, the Basildon team will also provide OHH for the Riverside Veterinary Group, which has eight practices in the area.
Speaking to Vetsonline, Richard Hooker, PDSA's director of veterinary services, said: "It's the first time we've covered our own OOH and provided for other practices."
He added: "It's been done through a trading subsidiary and any profit made is used to offset the costs of providing our services, which is quite neat really."
The PetAid Emergency team consists of four vets and four animal care assistants working on a self-covering continental rota system, allowing them to meet Working Time Regulations and negating the need for locums.
The OHH service, while enabling PDSA to give continuous care to its own patients overnight, also mirrors Riverside Vet Group's charging structure, so fee-paying clients have consistent and transparent charging.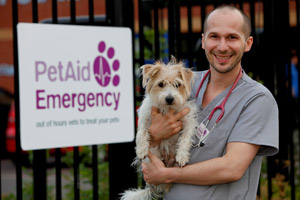 Stuart Edgill, director of Riverside Vet Group, said: "This new service absolutely fulfils a real need for us when it comes to delivering a professional and comprehensive OOH service to our clients.
"PDSA's service has numerous very positive points of difference, the fee structure which complements ours and the consistency in staffing, means we see PetAid Emergency as a true extension of our own practice."
Mr Hooker said the new PDSA OHH model was created to solve a local cover problem in Basildon, but that it could be replicated elsewhere if there was the demand.
"It fulfills a need for a particular practice, but it is still quite an exciting development for us as well, to be providing a fee-paid service for fee-paying clients because of local need and I'm really keen for the profession to be aware of this development," he said.