The Kennel Club and Dogs Trust have announced the opening of public voting for the 20th Westminster Dog of the Year competition, which will see MPs battle it out to have their four-legged friends crowned as top dog.
The fur could soon be flying in the House of Commons as public voting gets under way for the Westminster Dog of the Year.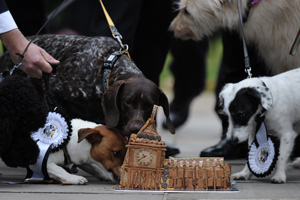 The competition is organised jointly by the Dogs Trust and The Kennel Club, and will culminate at an event at Victoria Tower Gardens, Westminster on October 25.
This is the 20th year the competition has been held, and with MPs set to use social media to gather as many votes as possible for their pets, it's likely to be a close run thing.
But the winner won't just be decided at the ballot box. Once all votes have been counted, the dogs take part in the "Doggie Dash" before a being given the once over by a panel of judges to decide who will be named Westminster Dog of the Year.
The Kennel Club's communications director, Caroline Kisko, said: "The competition is open to all parliamentarians' dogs, and we aim to find the dog that is worthy of the title – whether they help to blaze the political trail in their owners' constituencies or simply offer their MP masters the odd lick of support."
Chief executive of the Dogs Trust, Clarissa Baldwin, said: "Many of this country's MPs are dog lovers and the Westminster Dog of the Year competition celebrates the unique bond between people and dogs, and is arguably the cleanest political battle in Westminster."
Visit www.thekennelclub.org.uk/westminsterdogoftheyear to find out more about this year's entries.