Vets from UK vet charity PDSA have warned that parvovirus is "present and dangerous" in Britain- with an estimated 300 new cases of the disease seen at its PetAidhospitals in one month.
Recent checks carried out at around half of PDSA's 47 PetAid hospitals revealed that at least 160 new canine parvovirus cases had been seen in a single month, so the actual number seen by the charity could be double this.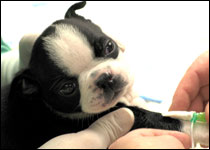 Information gathered by the charity also show "stark regional variations in the prevalence of parvovirus". Samples were taken from over 350 dogs suspected of having the disease: In northern England, 78 per cent of dogs sampled tested positive, compared to Scotland where it was just 13 per cent. In Wales, 70 percent of suspect cases proved positive, along with 65 per cent in the Midlands.
The information gathered also confirmed that unvaccinated dogs were more likely to test positive for the virus.
PDSA senior veterinary surgeon Sean Wensley said: "PDSA staff at some PetAid hospitals have seen a large influxof very sick pets over the past few weeks.
To owners, he stressed: "Ensure your puppy receives their vaccinations to provide good protection against this disease. Follow your vet's advice on booster injections, which are usually once a year, because an animal's immunity to the infection decreases over time."