RCS advisory group chairman Rosemary Radcliffe claims there is "no reason" why DEFRA should not be able to implement the proposed England Partnership Board by the end of summer 2011.
On December 13 the independent advisory group on responsibility and cost sharing (RCS) presented its final recommendations to DEFRA on how to implement effective RCS in England.
The key proposal is the creation of a new decision-making model, dubbed the "England Partnership Board", which would have senior civil servants and a majority of industry representatives act as the single source of advice to DEFRA ministers "on all strategic kept animal health and welfare matters in England".
Speaking to Vetsonline and Veterinary Times reporter Emma Cooper about the much-thwarted issue of RCS, advisory group chairman Rosemary Radcliffe put forward a confident argument for the creation of a new partnership board.
Commenting on how the board would usher in a "fresh start" on RCS, Ms Radcliffe said: "The model is not only new for DEFRA, it's new for Whitehall. We [the advisory group] looked for other examples and there's nothing decidedly similar – which seems surprising but it's not.
"The whole RCS agenda has some interesting features and nowhere else do these issues come together – animal health and welfare, the food chain, human health etc. they all come together with a punch in this debate. I think the model is right for this situation.
"You can never be certain, but we certainly think this is the right way to go and if we all truly want RCS we have to make something like this work otherwise the decisions will be made as they always have been, by civil servants."
The report calls on Government to buy into the new model.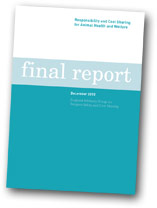 Ms Radcliffe explained: "When we first started developing these ideas we felt very early on that the change for civil servants was going to be substantial and they have appeared to be up for it but, to be honest, I'm less worried about civil servants doing what they say they're going to than getting the right people."
The Partnership Board would have around 12 members, including economists, vets and representatives from various farming sectors, and an independent chairman.
Ms Radcliffe said recruitment to the board would be an open process, "but what organisations will want to do is put their heads together and think of people who will be suitable, encourage them to apply and say they have the support of these groups – and this will help with communication once these people are appointed as there will be that link back to these organisations. Although they would not be legally accountable there would be a kind of in-practice accountability [back to industry]."
Commenting on the role of the veterinary profession she said: "It's absolutely essential the veterinary profession is involved and all sorts of people would like to see vets on this board. They will be fundamental to its success and are right up there in my view."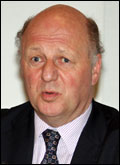 The advisory group recommends that once in place, the board would tackle cost sharing, which the group says should start with a "full bottom-up, value for money" review of animal health and welfare activities, including the fees, charges and compensation machinery and look at opportunities for contracting and more emphasis on private insurance for animal keepers.
Government has said it will reply to the recommendations by April. Ms Radcliffe believes the Partnership Board should be created "as soon as possible".
She said: "In theory they [DEFRA] could have something up by the end of summer, there's no reason why they shouldn't. It's a challenge but it is feasible. Personally I would like to see this board up and running as soon as possible."
Responding to the advisory group's proposals on behalf of DEFRA, farming minister Jim Paice said: "Rosemary Radcliffe's report will be a valuable base to help explore the options for responsibility and cost sharing in the future.  It provides us with an excellent opportunity to examine how the 'big society' can be put into action in this important area of DEFRA policy."