A tiger has travelled 250 miles from Chester Zoo to its new home at Paignton Zoo Environmental Park in Devon.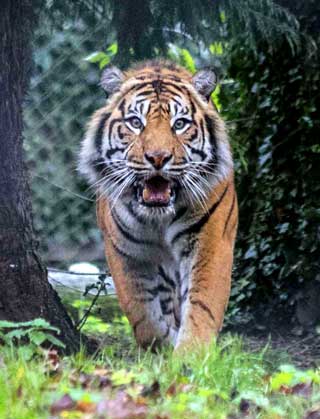 The eight-year-old male Sumatran tiger, called Fabi, had originally moved to Chester Zoo from Prague Zoo in 2009. He then fathered seven cubs with Chester's resident female, Kirana, who was born at Paignton Zoo in 2006.
Breeding programme
The move is part of a European breeding programme for Sumatran tigers, which uses a system of studbooks to match animals.
The studbook holder is responsible for pairing well-matched individuals to ensure a healthy and genetically diverse population of animals in the breeding programme.
It is hoped Fabi will now successfully mate with female Sumatran tiger Shakira, which arrived at Paignton Zoo in October from the Tierpark Berlin in Germany, where she was born in 2002. She has bred, but not yet reared a litter successfully.
Sumatran tigers are critically endangered, with just 300 thought to remain in the wild. Their numbers continue to decline due to habitat loss, poaching and human-tiger conflict, meaning the insurance population to be found in zoos is vitally important to the future of the species.