The owners of a cat requiring life-saving treatment travelled more than 170 miles and spent £4,000 to ensure it received care.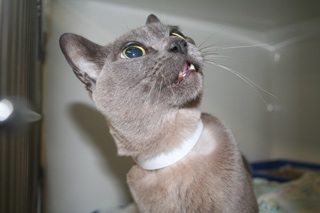 The 10-year-old Burmese cat, called Alan, lives in the Inner Hebrides and Skipton. He was sent to Dick White Referrals (DWR) in Cambridgeshire for life-saving treatment when a collapsed windpipe severely restricted his breathing.
It transpired Alan had tracheal "stenosis", an uncommon condition where his windpipe narrows in a particular region to only 2mm in diameter, causing dramatically reduced airflow to the lungs.
Route to recovery
Interventional radiology, which uses sophisticated imaging techniques to guide catheters, wires and instruments into inaccessible areas of the body using blood vessels, airways and other tubular structures as a "route-map", was conducted.
In Alan's case, a mechanically woven stent made of a "memory-metal" alloy was placed and expanded in the windpipe at the site of the narrowing, immediately opening it up as the stent expanded. This technique has not been reported in cats elsewhere in the UK and specialists at DWR believe they have been innovative in its application.
Not easy to do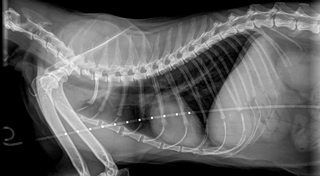 Vet Jon Wray, who performed the procedure, said: "The trickiest part, and the time of greatest jeopardy for Alan, was the moment we had to pass the catheter through this very narrow gap in his windpipe. Not only was the tiny hole, surrounded by scarring, very difficult to manoeuvre, but the windpipe had narrowed to the same size as the collapsed stent."
The operation was successful and Alan's owners are delighted with the outcome.
They said: "We are so glad we were referred to a centre able to offer this technique. It cost around £4,000, but, given the expertise and equipment used and the outcome achieved, we feel it was money very well spent."