Veterinary professionals, paraprofessionals and pet owners were on hand to celebrate the opening of the Davies Veterinary Specialists (DVS) Therapy and Fitness Centre in Hertfordshire at the end of January.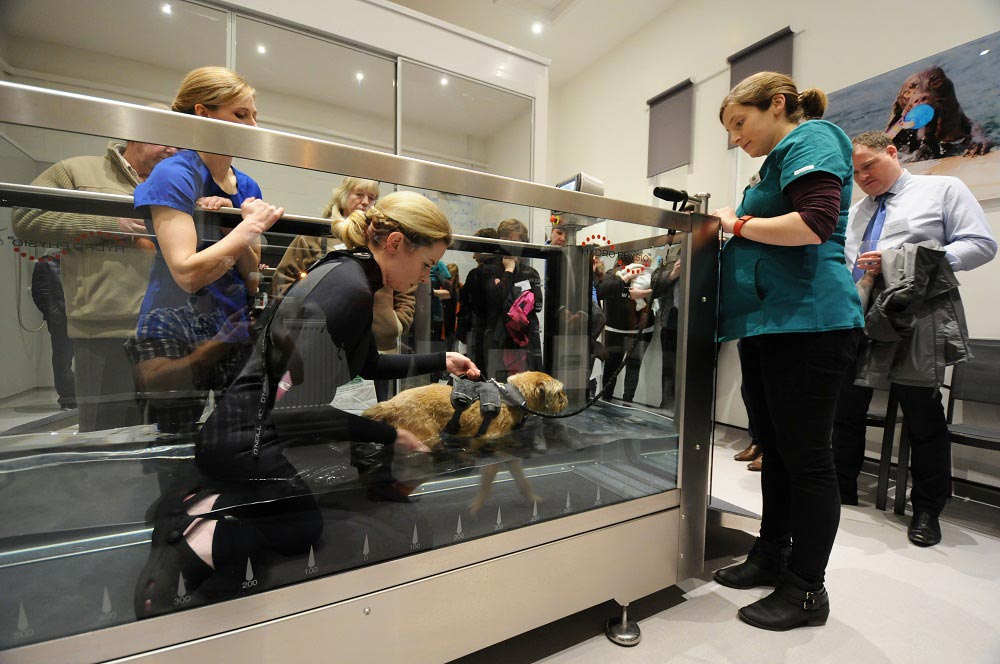 The centre offers:
physiotherapy
rehabilitation
underwater treadmill therapy
soft supports
splinting and orthotics
fitness and conditioning
pain management and acupuncture clinics
Tour and demonstrations
Guests were given an exclusive tour of the premises, while the team provided demonstrations in the hydrotherapy suite and the therapeutic exercise area.
The event also included complimentary CPD sessions and a display of the winners of DVS' Pets on Canvas competition.
'Dream come true'
Head of physiotherapy Diane Messum said: "We have had an overwhelming amount of support for the launch event. Vets, paraprofessionals, work colleagues and pet owners have enjoyed sharing our passion and love for the work we do in providing our patients with the best care we can deliver to improve their quality of life.
"I am very lucky to be a part of an amazing team of veterinary professionals and developing this unique rehabilitation service has been a dream come true for me."
Pets on Canvas
Last autumn, DVS ran a wall art competition on social media. Pet owners, referring vets and budding photographers were invited to send bright colourful pictures of their pets enjoying the outdoors or water.
The judges chose DVS anaesthetist Louise Clark's portrait of her lurcher Billy on Ben More on the Isle of Mull as the winner. A delighted Amanda Brophy was runner up with her portrait of her working cocker spaniel Flyte.
Sarah Egginton was highly commended for her picture of her flat-coated retriever Torin and his friends enjoying a Scottish holiday five weeks after having a back leg amputated at DVS.
The winners won either a free physiotherapy health check or shopping vouchers. Their pictures are now on display in the centre and will be used for future marketing materials.