Online registration is now available for the BVACongress 2009, which takes place in Cardiff onSeptember 24-26 under the theme "Together Forever?"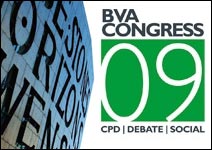 This year's event asks what devolution in Britain means for animal health and welfare and its impact on the veterinary profession.
Professor Sandy Trees, incoming president of the Royal College of Veterinary Surgeons (RCVS), will deliver the Wooldridge Memorial Lecture asking What, exactly, is a vet? and tackling the issues that separate and bind together vets from different areas of the profession.
In addition, the programme features a series of contentious issue debates, including:
Questions of breeding discussing the ongoing concerns surrounding pedigree dog breeding;
Who will take the high road? considering animal health and welfare policy in the devolved administrations and the advantages and disadvantages in terms of safeguarding animal health;
Finding the right structure for welfare and health examining DEFRAs plans for responsibility and cost sharing;
Bovine TB: where do we go from here? discussing whether eradication is actually feasible.
BVA Congress also provides a wide range of CPD opportunities from the British Cattle Veterinary Association, the British Equine Veterinary Association, BVA Overseas Group, Sheep Veterinary Society, Society of Practising Veterinary Surgeons, the Veterinary Benevolent Fund and the Veterinary Defence Society.
Topics to be considered in the CPD programme include bovine TB and bluetongue, responsible use of anthelmintics in sheep and the lessons learned from the outbreak of equine influenza in Australia in 2007, as well as sessions on canine and equine ophthalmology and helping practices to beat the recession.
Additionally, a programme from the BVAs Overseas Group will look at how organisations delivering animal health services overseas might work together more effectively, while the Veterinary Benevolent Fund will address the worrying issue of the high suicide rates among vets through three research projects.
Register online via the BVA website , or click here to download the full Congress 2009 programme.