The Bella Moss Foundation (BMF) has joined forces with Oncore Online Learning to launch a learning module to help veterinary staff beat the superbugs and implement rigorous, tailored infection controls in practice.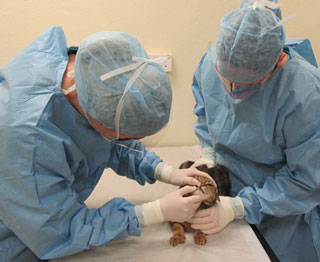 The two-week virtual learning course, entitled "Practical infection control", is the most recent addition to a range of educational tools from BMF, including best practice guidelines and an online "self audit" practice room checklist.
The charity approached Oncore about creating a formal education course in light of the revised RCVS Practice Standards Scheme being launched at London Vet Show next week, which will now include dedicated infection control criteria in three of its new modules.
Practical infection control is delivered online as a fully tutored course and students will have access to Oncore's dedicated virtual learning environment, which will host a lecture, learning materials and discussion forums.
Course materials and ongoing tutor support and assessment will be provided by expert VN lecturer and BMF advisor Louise O'Dwyer.
Students will be able to create and implement their own tailored infection control standard operating procedures for their practice, which will be evaluated by Miss O'Dwyer.
Course registration is now open, and as soon as a minimum of eight students are booked, the first two-week course will go live. Practical infection control costs £129 and counts for six hours of documented CPD.
A percentage of the proceeds will be donated to BMF, to help the charity continue to fund veterinary education and 24/7 support for pet owners seeking advice on antimicrobial resistant infections.