A registered veterinary nurse (RVN) from Suffolk is appearing in a The Great British Bake Off style BBC series in which anglers showcase their skills and compete against each other.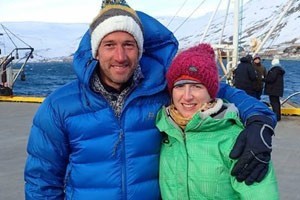 Jo Stephenson, a nurse manager at Orwell Veterinary Group in Ipswich, was one of eight fishing enthusiasts selected to take part in Earth's Wildest Waters – The Big Fish, which is presented by Ben Fogle.
The series, broadcast at 8pm on Sunday evenings, is running over six weeks and each show is set in a different country. So far the contestants have competed in Iceland and Cuba, and this weekend's show was filmed in Laos.
They have to complete three challenges in each country and expert judge Matt Hayes then decides who has been the least successful and he or she goes home.
Filming finished in July, but Mrs Stephenson, 33, has had to keep the results a secret and isn't allowed to say what happened.
"It was an awesome experience, but very stressful fishing as it would all count to whether you stayed on to the next country or went home," she said.
Mrs Stephenson, who qualified as an RVN 10 years ago, first became interested in fishing when she started going out with her now husband Jonny when they were about 16. She began learning how to tie flies for fly-fishing and took up lure fishing, progressing to fly-fishing three or four years ago.
"Fly-fishing is completely different – much more complicated and lot more skills are involved," she said. "I am still getting better at it; you have to really work at it. I think it's a much more natural way of fishing. It's you, the fly and the fish, but it's so frustrating when it doesn't go right."
Earth's Wildest Waters – The Big Fish airs on BBC Two at 8pm on Sundays until 15 November.