Veterinary surgeons are being urged to help tackle the issues around compliance when using tablets or capsules to medicate small animals and pets by considering the use of veterinary "specials".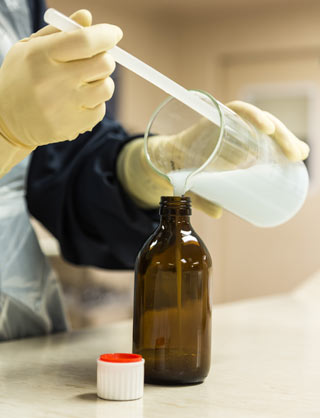 Karen Cole, group sales and marketing manager at Nova Laboratories Ltd, said: "Vets do daily battle with animals when it comes to ensuring they take their medicine. Large capsules and chalky tablets are hard to hide in food and difficult to swallow for smaller breeds. Cats in particular are notoriously difficult to give tablets to.
"Additionally, owners who administer medication on the advice of their vet, will struggle to know if a course of medication has been successfully completed.
"In some cases this can prolong illness in small animals and pets as the course is either not completed successfully, or the optimum dosage levels have not been reached."
To tackle this issue, Nova's veterinary compound­ing and reformulation service enables them to supply veterinary "specials" in accordance with cascade regulations, moving from a tablet or capsule into a liquid formulation that can be squirted directly into the inside of the animal's mouth, or spread over food.
A 24-hour turnaround on tailor-made medicines means there has never been a better time for vets to ease the stress of medicating small animals and ensure compliance, the company claims.
Karen explained: "Our business has been built on serving the needs of human patients within the NHS and the community, but we have increasingly been supplying products to vets, as smaller animals and pets also need tailor-made solutions.
"Like humans, animals can have allergies, intolerances and sensitivities to things like lactose. Other applications for Specials include addressing dosage – a 30kg Labrador and a 6kg Bichon Frise cannot be treated with the same dosage – and finding solutions where an animal needs a drug that is no longer commercially available.
Nova Laboratories Ltd is inspected and licensed by the Veterinary Medicines Directorate (VMD) to provide off-label medication, including veterinary-use only drugs, to improve pet compliance.