Equine veterinary volunteer Alfonso Martin from Auburn Equine Clinic in County Antrim, Northern Ireland, travelled to West Africa to help train both veterinary students in Senegal and vets in Mauritania.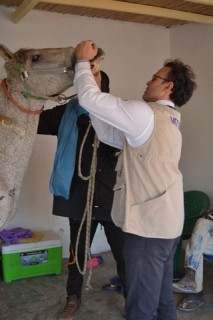 In a mission supported by BEVA Trust, Mr Martin was one of a number of horse vets who applied for the project, organised by the Society for the Protection of Animals Abroad (SPANA).
As a fluent French speaker, with good general practice skills, he proved to be the perfect candidate for the hands-on post.
On a mission
The two-week project involved working with SPANA vet Hannah Davies to provide basic training to students at the University of Senegal and to the veterinary teams at two SPANA centres in Mauritania.
Mr Martin and Ms Davies also provided support for the two mobile clinics run by SPANA veterinary teams in Mauritania and conducted a welfare assessment of the area to set a baseline for welfare and veterinary care.
He also helped set up an x-ray system and an ultrasound scanner at the SPANA clinic in Nouakchott and trained students on how to use the equipment, which had been donated by the Vets with Horsepower project.
Honing skills
During his time at the clinic, Mr Martin also set up a health assessment system, repaired malfunctioning equipment, provided laboratory work and dentistry training and led numerous lameness work-ups, which helped the students hone their diagnostic skills.
It is the second year BEVA Trust has provided volunteers for SPANA veterinary training initiatives in Africa. Last year two equine vets provided valuable teaching support for SPANA's veterinary teams in Morocco.