Value Vets in Walker, Newcastle, is teaming up with Dogs Trust to run a free microchipping day on 15 February.
Between 11am and 3pm, owners can bring their dog along to the surgery on Welbeck Road to have their dog microchipped.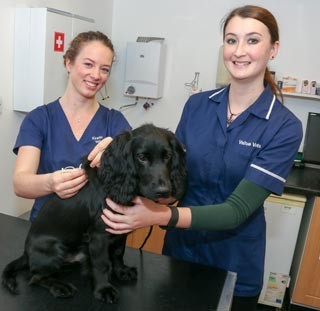 Every dog owner in England will have to microchip his or her dog from 6 April under plans intended to reduce the number of strays and make owners more accountable for their pets. Those who do not comply could face fines of up to £500.
Reuniting pets
Vet Ann Myerscough, who runs Value Vets' Walker branch, said: "Lots of stray dogs are brought to our surgeries across the north-east every year, and compulsory microchipping will enable us to reunite pets with their owners.
"Many clients coming into Value Vets were unaware microchipping will soon be a legal requirement, so we felt there was a strong need to organise a day when they can bring their pets along and have the procedure done free of charge.
"As well as reducing the number of lost and abandoned dogs, microchipping will safeguard animal welfare and promote responsible ownership."
Owners unaware
Figures from vet charity PDSA suggest about 1.5 million pet dogs – around one in every six – in the UK are yet to have a microchip fitted, with many owners simply unaware of the new laws.
Michelle Moat, Dogs Trust education and community officer for the north of England, said: "From 6 April, owners must have their dogs chipped and ensure registered address details are kept up to date. Owners who do not microchip their dog within 21 days of being served notice will be liable to pay a fine of up to £500. That's why we want to give people this opportunity to have their dogs microchipped for free before the law changes.
"We are also offering a free, basic, dog health check and everyone that comes along to get his or her dog microchipped will get a Dogs Trust pack, which includes information on everything from how we can all stay safe around dogs to what it takes to be a responsible pet owner."