Norbrook has added Marbodex Aural to its otitis management system for dogs.
Marbodex Aural contains a triple combination of powerful, trusted ingredients proven to relieve pain and inflammation quickly and improve pet comfort, while dealing with key bacterial and fungal infections, Norbrook said.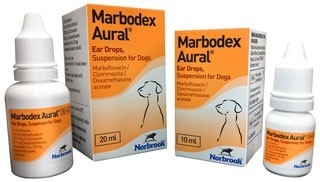 The presence of marbofloxacin ensures Marbodex Aural is an ideal first choice for cases of otitis externa that are:
suppurative1
expected to respond poorly or have responded poorly to other classes of antibiotics
known to be infected with Pseudomonas spp1
Once daily application
Clotrimazole, a powerful, broad spectrum antifungal, is especially effective against otitis caused by Malassezia pachydermatis and dexamethasone is a potent, fast-acting steroid whose absorption is not increased in inflamed ears.
Marbodex Aural only needs to be applied once a day and has two soft, atraumatic nozzles to reduce pain on application and prevent cross-contamination during treatment. Extended treatment periods of seven to 14 days offer reassurance when treating persistent infections.
Marbodex is available from all veterinary wholesalers. For more information on Marbodex and to take advantage of launch offers, contact your Norbrook territory manager or telephone 01536 741147.
Reference
Patterson S (2012). Consultant on call: Pseudomonas otitis infection, NAVC A Clinician's Brief September: 60-63.