Paw-litical pooch belonging to MP for Rutland and Melton Alan Duncan beats 13 other opponents to win top title.
There was a worthy winner in Westminster yesterday (October 10, 2013) as Noodle, an 11-month-old cocker spaniel poodle cross, triumphed in the 21st annual Westminster Dog of the Year competition.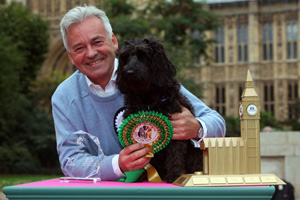 The competition, organised by The Kennel Club and Dogs Trust, took place in Victoria Tower Gardens and saw Noodle – owned by Alan Duncan, MP for Rutland and Melton – show dogged determination as she battled it out to defeat 13 paw-litical opponents to win the top accolade.
The MPs involved in the competition had campaigned hard, canvassing for votes from the public before meeting the expert judges to boast about their dog's heroic deeds and acts of devotion.
Mr Duncan said: "I am absolutely thrilled to bits to have won Westminster Dog of the Year. Noodle is a playful and well behaved dog, which caught the judges eye, and I am very proud of her. I really like this competition as it highlights the importance of responsible dog ownership."
The judging panel – Dogs Trust CEO Clarissa Baldwin, Kennel Club secretary Caroline Kisko and MP Charlie Elphicke, owner of 2012's winning dog Star – spent the morning with dogs from different political persuasions and ambitions.
Ms Kisko said choosing Noodle as the winner was a "difficult decision".
She said: "Again this year we have seen lots of worthy dogs compete for this title and the bond each MP has with their dog is uniquely special. It was a difficult decision to make but Noodle and Alan struck a chord with us all and are clearly popular with their constituents too."
Ms Baldwin, meanwhile, said it was "fantastic" to see so many "wonderful dogs in attendance with their devoted owners".
"It seems to get harder every year to pick the winner. I loved Alan's answer to the question, what Noodle would do if she were Prime Minister? His answer was that she would allow a dog to be a winner of the Nobel Peace Prize."
Leading the opposition in second place was Harry, a fox terrier owned by MP for Dewsbury Simon Reevell, with third place awarded to Cholmeley, a Labrador owned by David Burrowes, MP for Enfield Southgate.