DEFRA has published its new Wildlife Health Strategy, which describes how the Government plans to work in partnership with others to reduce the impacts of wildlife disease.
According to DEFRA, the strategy, which was launched yesterday, sets it sights on strengthening collaborations and developing communication networks for wildlife health to enhance and widen the sharing of information and expertise with the aim of increasing our knowledge and understanding of both infectious and non-infectious diseases in wildlife.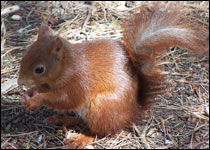 It will help guide everyone involved in managing wildlife health to respond in a coordinated, appropriate and proportionate way to wildlife disease issues when they arise.
Aside from the effect disease can have on a wild animal itself, it can pose a risk to human health, the health and welfare of kept animals – damaging food production, trade and the wider economy – and have a negative impact on biodiversity and species conservation.
Further information about the Wildlife Health Strategy is available on DEFRA's website . The England Wildlife Health Strategy (PDF 850KB) can be downloaded here .