British professor Colin Burrows to become new president of WSAVA from November after current president Jolle Kirpensteijn moves to a new role at pet food manufacturer Hill's Pet Nutrition.
A British professor is to become the new president of the World Small Animal Veterinary Association from November 1 (2013).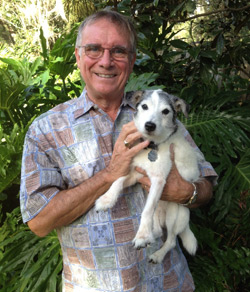 Colin Burrows, who is emeritus professor at the University of Florida's College of Veterinary Medicine and former chief executive of the North American Veterinary Conference, was due to start his presidential term in September 2014, subject to ratification by the WSAVA's general assembly. However, his appointment has been brought forward because current president Jolle Kirpensteijn has moved to a new role with Hill's Pet Nutrition.  
Prof Burrows will now serve as president until the next meeting of the WSAVA's general assembly in Cape Town on September 15, 2014. Prof Kirpensteijn, meanwhile, will serve as immediate past-president.
Prof Burrows said the WSAVA is "forever grateful" to Prof Kirpensteijn for serving an extra term after incoming president Peter Ihrke stood down for health reasons.  
"Jolle has been an active and incredibly effective WSAVA president and will be a very hard act to follow," he said. "I hope to continue and enhance his many priorities, including the WSAVA's work in one health and our efforts to eliminate rabies.
"We are also trying to find solutions to many other issues, including the limited availability of medications for companion animals in many parts of the world. This leads to great inconsistencies in the level of treatment that can be provided in key areas such as pain management.
 
"We must also continue our efforts to enhance our world congresses and other educational programmes, with the overall goal of improving veterinary postgraduate education and, by extension, patient care, around the globe."
Prof Kirpensteijn said he was "deeply honoured" to have served the WSAVA, particularly seeing its members' work "change the lives of companion animals and people around the world".
For more information, visit the WSAVA's website.