Zelda the ferret has become one of the first of her species to be fitted with a pacemaker.
Vets at Kansas State University's Veterinary Health Center conducted the surgery after tests revealed Zelda had a third-degree atrioventricular block in her heart.
Owner Carl Hobi took the ferret to the vets when he noticed her appetite was off and that she was laying down more than usual.
Good candidate
Veterinary cardiologist Justin Thomason said: "We performed an echocardiogram, ECG and chest x-rays, which demonstrated Zelda was a good candidate for pacemaker implantation.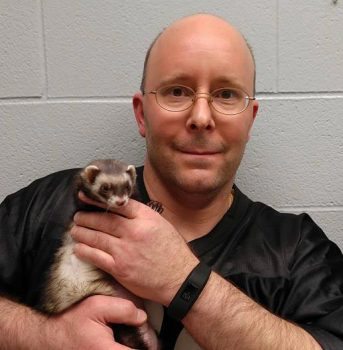 "As with a human patient, this condition called for the implantation of a pacemaker to help increase Zelda's heartbeat and provide her a good quality of life."
The implantation team included Emily Klocke, clinical associate professor of small animal surgery, and David Rankin, clinical professor of anaesthesiology.
Prof Klocke said: "I was very concerned about how small our patient was and whether I could successfully suture the pacemaker leads to her beating heart without causing severe bleeding. Our anaesthesia service, led by Dr David Rankin, was very instrumental in the success of this procedure."
Delicate procedure
Assistant professor of clinical medicine David Eshar described Dr Klocke's work as "truly magical."
He said: "There are only a few millimetres of space within the heart's wall for suturing the leads from the pacemaker. The pacemaker is the same as what would be used in a human patient, but we had to order a special set of leads for Zelda, since these would not be inserted through the veins. It's a very delicate procedure to make everything work correctly."