The Animal Health Trust is targeting the harvest mite as a possible cause of the mystery illness that has been killing dogs.  
The Animal Health Trust has begun a pilot study to investigate a possible link between Seasonal Canine Illness (SCI) and harvest mites.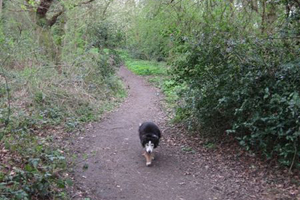 SCI is a mystery illness that in recent years has made a number of dogs walked in woodlands suddenly become ill.
Cases are usually seen from August to November, with dogs showing clinical signs of vomiting, diarrhoea and/or lethargy within 24 to 72 hours of walking in woodland.
Dog owners are advised to seek immediate veterinary advice should they see these signs in their dog following a woodland walk.
So far this year, there have been 49 cases reported to the AHT, from across all of its current investigation sites. A number of cases reported to the charity have shown evidence of harvest mite infestation.
Charlotte Robin, SCI Research Coordinator at the AHT, said: "To enable us to eliminate harvest mites as a potential cause of SCI, we are advising dog owners to treat their dogs with a fipronil spray directly before walking in woodlands."
There are currently no licensed products that will specifically prevent harvest mites, however fipronil spray is believed to be effective in preventing other mites.
The researchers believe it is important dog owners use the spray and not the spot-on treatment, which may not provide the same level of localised protection on vulnerable areas.
Charlotte added: "Dog owners need to be aware that using fipronil spray may not protect their dog from SCI, but it could protect them from harvest mites and other external parasites. What we are trying to do with this study is eliminate the harvest mite and other external parasites from our enquiries.
"Clearly, if harvest mites are not causing SCI then using fipronil spray is not going to stop dogs from contracting SCI, so please remain vigilant for the clinical signs in your dog and contact your vet immediately for advice if you suspect something is wrong."
In addition, the AHT is working with the Sandringham Estate in Norfolk to offer dog owners who wish to participate in the study access to the spray free of charge, if deemed appropriate by their vet.