Agri-Food and Biosciences Institute to present at 9th International Conference on Lameness in Ruminants.
Findings from the Agri-Food and Biosciences Institute (AFBI) will be presented at the forthcoming 9th International Conference on Lameness in Ruminants being held at the University of Bristol Veterinary School.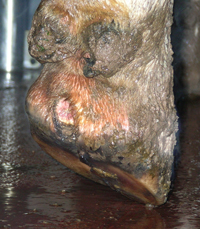 The conference, which starts on Sunday (August 11) and runs until the following Wednesday, brings together veterinary surgeons, researchers, farmers and foot trimmers to review the most recent research information about lameness control methods, and look at how to help farmers to control this problem. 
Work at AFBI on digital dermatitis has examined differences between dairy cows in susceptibility to infection.
Better understanding of the risk factors for digital dermatitis is crucial in developing more effective future control strategies. 
Findings of the work indicate individual differences between cows in general skin permeability are not a major factor in determining susceptibility to digital dermatitis.
Therefore, although some cows appear to be more susceptible to dermatitis than others this is not due to the properties of skin (for example, thickness) affecting permeability.
However, the work indicates contact with slurry contributes greatly to digital dermatitis infection by increasing skin permeability, which may facilitate entry of the pathogen causing infection, meaning cleanliness of passageways and cubicle beds is an important step in reducing the risk of infection.
Foot-bathing methods to control lameness have been a major component of the AFBI research programme. Catherine Jennings, a DARD-funded postgraduate student at AFBI, will present her work on maximising effectiveness of copper sulphate foot bath solutions for dairy cows.
Her presentation will include preliminary results from a survey on foot bath solutions and additives used by dairy farmers across Northern Ireland.
This work has shown information sharing between farmers is an important source of information on foot-bathing solutions. Catherine's paper will also examine the potential benefits of adding vinegar to copper sulphate in different foot-bathing frequency regimes in controlling digital dermatitis in dairy cattle.
A further AFBI paper will present results of research on sheep lameness, which has identified key foot health issues on sheep farms through the season and has moved on to consider control factors. 
Genetic differences in the incidence of foot rot in ewes and scald in lambs were identified. The paper presents results of studies to evaluate the effectiveness of copper sulphate or a commercial foot-bathing solution (acid-based) on the control and/or prevention of foot rot and scald in ewes and lambs.