Veterinary community and sheep and cattle industries come together to deliver liver fluke CPD.
A number of partners from the veterinary community and the sheep and cattle industries are coming together to develop a CPD training programme for general veterinary practitioners.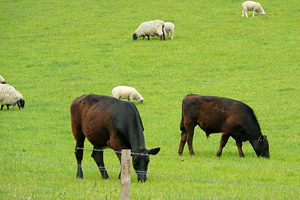 The initiative was kick-started on Monday (September 30, 2013) with an expert workshop in Penrith using input from specialist vets and researchers to develop case studies that explore all the challenging aspects in the control of liver fluke.
Six CPD training events will be held across the UK open to any veterinary practitioner and others involved in animal health advice, between October 2013 and February 2014, organised by the Sheep Veterinary Society (SVS), BCVA, Sustainable Control Of Parasites in Sheep (SCOPS), Control of Worms Sustainable (COWS), Moredun Research Institute and National Sheep Association (NSA), with input from experts from universities of Edinburgh, Liverpool and Nottingham.
There is Rural Development Programme for England (RDPE) funding in place via EBLEX for the English meetings and additional support from a number of pharmaceutical companies including Elanco, Novartis and Norbrook.
The development of case studies will include cattle and sheep scenarios where there are particularly challenging control issues, including:
A wet farm in a wet year with a high contamination of fluke on the pastures
Situations where either all veterinary products are working well, or there is an issue of drug resistance
Control in dairy cattle with limited available products and withdrawal periods affecting treatments
The growing emergence of rumen fluke, its significance and how to differentiate eggs from liver fluke under the microscope
Case studies will highlight the importance of environmental and management aspects to fluke control as well as the need for the correct timing of the most appropriate treatment.
Fiona Lovatt, president of the SVS, is fully behind the initiative. "After last winter we saw really severe problems with liver fluke on many farms across the UK, a problem made far worse by the prolonged wet weather of 2012.
"Apart from the environmental challenges, we have a limited number of effective pharmaceutical products which makes controlling fluke difficult in some circumstances," she said. 
"However, there are solutions, and this initiative has been identified by sheep and cattle farmers as important to ensure good and consistent advice leading to effective control on farms."
For more information please contact Fiona Lovatt on 07711 710216.