The Blue Cross has warned of the dangers of equineobesity as it revealed that 40 per cent of all horses and ponies taken in byits equine centres last year were overweight – an increase of 5 per cent on theprevious year.
Richard Stephenson, equine vet at Pool House Veterinary Group,regularly treats overweight and obese horses and fears that Britainwill soon be facing an epidemic of this "killer disease".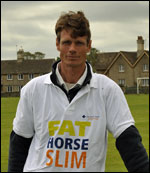 He said: "Obesity increases the risk of arthritis, heart disease andlung problems, and it is directly linked to laminitis – one of the mostcommon causes of euthanasia in horses. Next to colic, obesity killsmore horses than any equine disease in the UK – yet it is one hundredper cent preventable."
The Blue Cross is today launching a new campaign to tackle the growingproblem of equine obesity by providing practical guidelines for everyhorse keeper to monitor and manage the weight of their horse. The FatHorse Slim campaign is backed by many of the UK's leading riders,including Olympic team members Mary King and William Fox-Pitt.
Mr Fox-Pitt said: "Carrying surplus weight makes it much harder for anyhorse to work well, whatever the level or discipline. The Blue CrossFat Horse Slim campaign tackles the serious problems associated withoverweight horses and ponies by providing sensible, practical advice onhow to keep them in optimum shape."
A Fat Horse Slim weight management pack, sponsored by Dengie, is nowavailable to order online, by phone or at The Blue Cross stand atBadminton and other equestrian events throughout the year. Aneducational film fronted by international showjumper Tim Stockdale canbe viewed at www.fathorseslim.org.uk , which also offers fat horsesuccess stories and the option to enter The Blue Cross Fat HorseSlimmer of the Year competition.
Blue Cross equine welfare education officer Rosie Mogford said: "Many owners may not be aware that their horse has a weight problem orthe serious health risks associated with this."
She continued: "Our perceptions as horse owners have changed over theyears and 'well' or round looking horses are now more acceptable thanthey used to be. With this campaign we hope to educate people aboutthe healthy weight for their horses and teach them how to achievethis."
________
The Fat Horse Slim pack contains everything the horse owner needs to know about weight monitoring and management, including: a 28-page Blue Cross guide; a Shires weigh tape; calculator; body condition score guide; wall chart for recording weight changes over time; and vouchers for free and discounted Shires and Dengie products.

The pack costs £8 plus postage and can be ordered online at www.fathorseslim.org.uk or by calling The Blue Cross on 0845 230 1672. Proceeds from the packs will support the The Blue Cross's work helping animals in need.
CASE STUDY: GINGER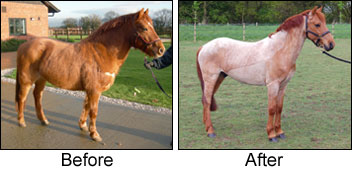 fathorseslim-casestudy.doc[DOC]