National Veterinary Nurse Week has moved to the summer to allow more VNs to take part in outdoor events and to help raise awareness of the veterinary nurse's role.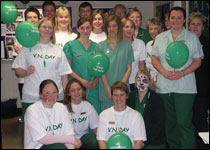 The week runs from July 19 to 25, and kicks off with two pet health check events on Saturday, July 19, one at Southsea Common's Castle Field in Portsmouth and one at Roundhay Park in Leeds.
The BVNA will round off the week by attending the CLA Game Fair, which will be held at Belvoir Castle in Leicestershire, where a team of nurses will be on hand to speak to pet owners about veterinary nursing and pet care.
BVNA is encouraging nurses to hold events to celebrate their profession, to raise money for the BVNA president's nominated charity, Search and Rescue Dog Association (SARDA Wales), and to make the general public more aware of the contribution veterinary nurses make.
Bonny Millar, BVNA president, said: "Last year VNs came up with fantastic ideas to promote National VN Week, from a 'barely there' calendar to a fairytale week complete with characters in costume and sets. We estimate that more than £7,000 was raised for the Animal Cancer Trust and other charities. I am also asking every member of the practice team to support nurses in their efforts and enter into the spirit of National VN Week."
Practices should also use the event to promote the services of their VNs, said Bonny.
"Fun events are a way of reducing barriers between clients and the practice team, and by getting nurses to meet the public away from the clinic, there is scope to educate and inform owners about our products and services," explained Bonny.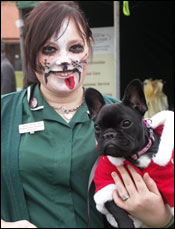 The team at Cromwell Veterinary Group has been involved in VN Week for the past three years. Nursing manager Julie Eastham said: VN Week is a wonderful way to not only promote the role of VNs to the public, but to also bring the team together. When we run an event, morale shoots up, ideas fly around, and suddenly everyone is feeling positive. I would recommend every practice encourage their VNs to get involved."
Further information and registration packs are available from the BVNA – see the website www.bvna.org.uk or telephone 01279 408644. Anyone interested in keeping up to date with activities planned for VN Week can also visit the BVNA's blog for the event at http://vnweek.wordpress.com
If you would like to let VN Times know what you're planning for VN Week, or send us your stories and pictures after the event, please email us on news@vbd.uk.com