An anonymous donor has dug deep to help veterinary professionals enhance their rabbit skills by covering the costs of CPD courses aimed at understanding the species' ailments and treatments.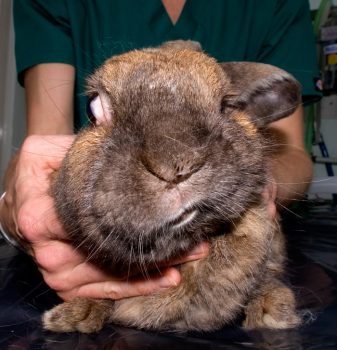 Retired vet Frances Harcourt-Brown, who runs a range of rabbit-related CPD courses in Yorkshire, contacted vettimes.co.uk to speak of her delight at learning a "very generous lady" – known only as Mrs X – had provided the funds to enable practitioners to attend a number of sessions.
Advanced courses
Vets with a particular interest in the species can apply for a place on one of two rabbit medicine courses:
Places on the courses, which usually cost £350, will be offered initally to students or new graduates hoping for a career with rabbits or vets funding their own CPD. Surplus places will be allocated by way of a draw.
VNs, meanwhile, can apply for a place on the "Nursing the Sick Rabbit" course, taking place on 27 October, which usually costs £125. Places will be allocated by a draw at the beginning of March.
Sharing knowledge
Mrs Harcourt-Brown is author of the first edition of the Textbook of Rabbit Medicine and, before she retired, was the first and only RCVS-recognised specialist in rabbit medicine and surgery.
She said: "As I came to the end of my career, I wanted to pass on what I've learned, so two years ago I started running my own rabbit CPD courses to provide in-depth information for vets and VNs keen to treat rabbits.
"The bequest came about because the benefactor, who wishes to remain anonymous, lost her precious rabbit Dave. Instead of denigrating the treatment he received, she decided vets would benefit from more knowledge about treating pet rabbits and looked for a way to provide that. She is a very generous, kind lady."
Vets can request an application form by emailing Mrs Harcourt-Brown on frances@harcourt-brown.co.uk, while VNs wishing to be entered into the draw can download an application form.