The popularity of one veterinary group's stand at this year's BVNA congress saw its giveaway go viral on the Facebook group Vet Nurse Chatter during the first day of the event.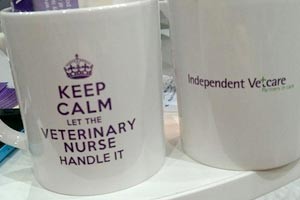 Independent Vetcare's mug giveaway was so popular that staff on the stand gave out more than 250 promotional veterinary nursing mugs by lunch on Saturday.
Each mug was emblazoned with the group's logo and the phrase: "Keep calm and let the veterinary nurse handle it."
Online comments from delegates saw the promotional mugs hailed "best freebie of the weekend".
The Independent Vetcare (IVC) exhibition team included nurses from veterinary practices taken over by the company, who wanted to talk about the positive experience this had been for them and what investment in the IVC's nurse committee, among other initiatives, has meant to them.
Recruitment manager Debbie Loding said: "It's been fantastic to meet so many amazing nurses in such a short period of time. This is the first time we've attended BVNA and we will certainly be coming again after receiving such a warm welcome this weekend."
With London Vet Show just around the corner, the IVC team is looking forward to sharing some "exciting new developments" intended to support nurses that work for the group, while making sure that anyone who missed out on a mug at BVNA Congress can get their hands on one.
Visit Independent Vetcare on stand A60 at London Vet Show (November 19-20).