Minister for natural resources and food in Wales Alun Davies visits Pengelli Forest in Pembrokeshire to watch the procedure – part of the Welsh Government's TB eradication programme – first-hand.
The minister for natural resources and food in Wales visited a forest in Pembrokeshire yesterday (July 1, 2013) to see badger vaccination first-hand.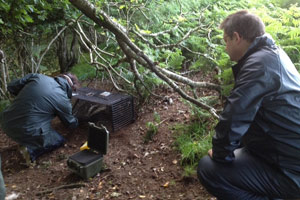 Alun Davies – who is also assembly member for Blaenau Gwent – was watching the procedure at Pengelli Forest as the area is within the Welsh Government's "Intensive Action Area", where the second year of its badger vaccination project is underway.
The five-year vaccination project is part of a wider programme of work at the Welsh Government to eradicate bovine TB from cattle in Wales. It is also attempting to develop a degree of immunity to TB within the badger population.
According to the Assembly, the first year of the project saw the successful capture and vaccination of 1,424 badgers, while provisional figures indicate over 500 badgers have been successfully vaccinated so far this year.
Mr Davies said: "It is important that I took the opportunity to visit the Pengelli Forrest today to see how the vaccination project is carried out.
"Participation in the project is voluntary and I am very grateful for the ongoing cooperation and assistance that has been shown by farmers and landowners across Wales.
"We are continuing to carefully monitor the results of vaccination, and of our whole eradication programme, to ensure we are making good progress towards our ultimate goal of a TB-free Wales."
Vaccination work is undertaken in cycles and is expected to continue until the end of October (2013). It is carried out by employees from the Welsh Government who have successfully completed a course on the cage trapping and vaccination of badgers by injection.