A new cat-only veterinary clinic in London has hit upon the innovative idea of signing patients up for Skype video calling, allowing clients to check up on their pets online, as well as enabling staff to monitor the cats overnight.
The Kitten to Cat Veterinary Clinic was opened in March 2008 by veterinary surgeon Zeta Frasca and claims to be "the only veterinary clinic specifically designed to reduce stress for cats and their owners while delivering the highest standard in healthcare".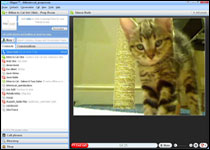 However, cat-only clinics are still relatively unheard of in the UK, despite being commonplace in the US – and attracting clients to a new veterinary clinic (especially when the concept is so unique) takes time.
So, recognising the need to differentiate her business in a way that would appeal to cat-lovers without incurring huge costs, Miss Frasca turned to Skype – a software package that enables individualsand businesses to make free video and voice calls via the internet.
Cats that stay for an extended period are assigned a Skype name when they are checked into the clinic, allowing clients to check up on their pets online and enabling staff to monitor the cats overnight. Clients can sign-in to their account at any time of day to check on their cat via live video feed. The accounts are set to "auto-answer" and can accept calls from anyone that has the cats' Skype address, wherever they are and whatever the time. Since Skype-to-Skype calls are completely free so is this service.
Miss Frasca claims that, in using Skype video calling, she hassuccessfully managed to set her clinic apart from any other veterinaryclinics or catteries in a way that has proved immensely popular withclients and cats alike.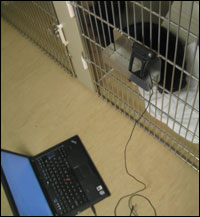 She said: "Checking in at the vets can be a stressful time for all involved. Cats are very susceptible to stress, more so than most pets. Just like in humans, stress causes health problems and hampers recovery time. The main cause of stress for cat lovers is the fear that when they are not around their feline friend will not be receiving the love and attention that they would get at home. With Skype that's no longer a concern."
However, Miss Frasca was surprised by the amount of time people invest in their pets well-being. She said: "One couple recently went on holiday to the States and gave their cat's Skype name to their parents in South Africa who had never seen the kittens. They spent nearly three hours a day online watching them."
When it comes to cat care, many small veterinary practices cannot afford to employ staff on a 24-hour basis to check on non-critical patients overnight. Kitten to Cat employs staff who are "on call" to check up on the cats at regular intervals throughout the night. With high quality webcams they can see well enough to monitor their condition and see the readings on an intravenous pump. If a problem occurs and they can see that the cat is in pain or if they cannot get good enough readings they will immediately leave for the clinic.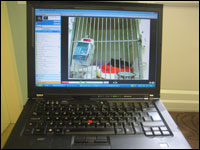 Zeta added: "Although all of our critical cases are transferred to an emergency hospital this would still leave the rest of the cats unmonitored if it wasn't for Skype. Starting up Kitten and Cat would have expensive without Skype, which has helped us to save on vital costs. The video calling is fundamental to the clinic, providing a service that takes the stress and worry out of the experience for both the cat, who can hear and be soothed by its owner's voice, and the cat owner who can see how their pet is doing at any time."