The BSAVA is to hold a series of training sessions on mental health awareness.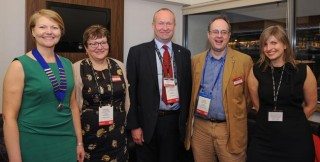 The series is its contribution to the RCVS Mind Matters initiative, which aims to reduce the numbers of vets and veterinary nurses affected by clinical depression.
BSAVA vice-president John Chitty announced the plan during a press conference at the association's congress. It forms part of the profession's response to research showing the stress of working in modern veterinary practices has taken a heavy toll on the mental well-being of many staff.
Providing practical support
Mr Chitty explained: "Vets and veterinary nurses are generally problem-solvers and practically-minded people. So, this is a way we can provide practical support to help members in solving a problem that affects many of our colleagues, while taking advantage of the BSAVA's strengths in organising CPD training."
The series of 12 meetings – one for each of the association's regions – will take place over the next year, starting this summer. They will provide training for all practice team members to help them recognise any signs of mental problems in their colleagues – and, perhaps, also in themselves.
Mr Chitty added: "It will give those people the confidence to have that difficult first conversation on the subject and signpost where the person affected can seek professional help, as well as showing how we may safeguard the mental health of ourselves and our colleagues."