A man has been jailed after allowing his dog's claws to grow so long they pierced through her paws.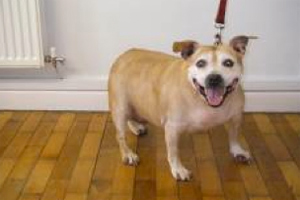 Bodger, a 16-year-old Staffie, was said to be "extremely lame" as a result of her affliction, which was caused by the claws on two of her feet growing under the paw, up through her foot pad and out the other side.
RSPCA inspector Hayley Lawrence said she could smell rotting flesh from the dog's infected paws as she stepped into the home in Bridgewater, Somerset.
She said: "It was the smell of necrotic flesh where her paws were infected. They were the worst ingrown nails I've seen in my 20-odd years with the RSPCA. They had grown under the paw and back up, punched through the pad and were curling back round again.
"It would have taken months, if not years, for her nails to have got into that state and was obviously very painful for her. She was constantly licking her feet and was extremely lame and didn't want to put any weight on her infected feet."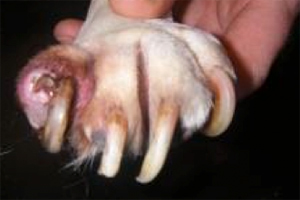 After the visit in April 2013, Bodger was taken to the vets where she was sedated, had her nails clipped and was given antibiotics.
"It was extremely easy to deal with," said Inspector Lawrence. "A simple visit to the vet and now Bodger is fit and well and looking for a new home for her twilight years."
Bodger's owner, 52-year-old Nicholas Sawby, was jailed for four weeks and banned for keeping animals for five years after pleading guilty to two counts when he appeared at Taunton Magistrates' Court on October 21:
causing unnecessary suffering by failing to provide adequate veterinary care and attention for Bodger's infected feet
failing to protect Bodger from pain and suffering by not adequately trimming her nails
Bodger was signed over to RSPCA care by magistrates. The animal welfare charity says it hopes to find a home for her soon.