A rescued dog is now ready for rehoming after forming a close bond with a vet.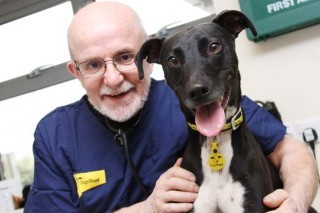 According to Dogs Trust Leeds branch, whenever five-year-old lurcher Jet sees the charity's vet John Wannop, he has eyes for nobody else.
Rehoming centre manager Amanda Sands said: "Our vets are wonderful and have a great relationship with our dogs, but, of course, some would prefer to be heading to the fields to play rather than the vet suite.
Puppy love
"However, that's not the case for Jet. He is always happy to see his two-legged friends, but whatever he's doing and whoever he's with, if he sees John, he gets excited and starts pulling towards the building.
"It is lovely to see – especially as Jet hasn't had the easiest of lives."
Jet arrived at Dogs Trust in 2014, having already spent four months in kennels after being found as a stray.
To enquire about rehoming Jet, telephone 0300 303 0292 or visit the Dogs Trust Leeds branch.