BVA president Harvey Locke has voiced disappointment at DEFRA's decision to delay an announcement on an English badger cull, but has agreed that any cull needs to be implemented correctly from the start.
BVA president Harvey Locke has voiced disappointment that DEFRA has delayed its decision on an English badger cull.
However, he agreed with the reasoning of Government minister Jim Paice who, speaking at an NFU event last week, explained any cull must be implemented correctly from the start.
Speaking at a break out session at the NFU annual conference on February 16, Mr Paice explained the Government response (expected earlier this month) had been put on hold because last year's consultation into badger controls had raised questions on the logistics and legality of a cull.
Referring to the need to make any culling action legally sound he said: "If culling takes place, it has to work. There won't be a second chance. If we go ahead with a cull, we need to make sure that we could win a judicial review – if we lost one, I dread to think what would happen."
Last year the Welsh Assembly Government was forced to delay and downgrade its own plans for a targeted badger cull to try and control the spread of bovine tuberculosis (bTB) in cattle, following a successful challenge by campaigners from the Badger Trust.
Mr Paice said some of the DEFRA consultation responses raised questions about the logistics of implementing a cull in England, for example, queries around what would happen if some farmers opted out, as well as law and order issues surrounding the issue of firearms to shoot badgers.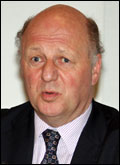 However, Mr Paice said he "remained determined" to pursue the policy.
"If we decide to go with a cull, I will be leading from the front, I promise you that," he said.
Commenting on the DEFRA decision to delay its response, Harvey Locke said: "We are disappointed that the announcement on bTB has been delayed but we agree with the minister that the Government has to get this right from the beginning.
"It is an incredibly important decision and so DEFRA must cover all of the angles before it rushes into a policy where there might be some difficult areas."
Mr Locke said he hoped the Government could resolve questions around implementing a cull as soon as possible.
"It would be regrettable if the delay was such that it resulted in another period where this devastating disease is not going to be tackled," he said.
Badger image ©iStockphoto.com/Freder