The live calf rearing demonstration will be returning to the Livestock Event, the sector's largest business to business event staged on 6 and 7 July at The NEC, Birmingham.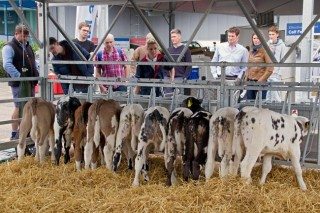 Designed to showcase housing and feeding systems, the demonstration will feature live calves in igloos, and conventional and specialist buildings, all located on the outside apron of Hall 17, the main livestock hall.
The feature will be complemented by a series of seminars delivered by leading calf specialists discussing housing, feeding and management systems.
Practical advice
Event director Matt Knight explained: "Livestock Event 2016 will be all about sharing information, ideas and no nonsense practical advice to help farmers and their businesses survive the next 18 months, and that includes youngstock.
"Times are tough; however, farmers must continue to invest in their future by ensuring their replacements get off to the best possible start, which has been scientifically proven to significantly enhance overall dairy herd performance and farm profitability. This demonstration, which will be run under veterinary supervision with strict protocols, is designed to do just that."