Call follows a calamitous few days at the port of Ramsgate in Kent which saw the Jolene – which was holding 700 sheep – turn back in the English channel as a result of gale force winds.
The RSPCA is calling for 100,000 people to sign an e-petition calling for an end to the live transport of animals.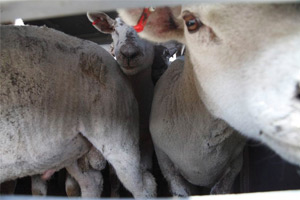 The call comes after a calamitous few days at the port of Ramsgate in Kent.
On Wednesday (November 21, 2012), the Jolene, loaded with up to 700 sheep – including some on the open deck – had to turn back in the English channel after force 10 gales endangered the ship.
On Saturday (November 24, 2012), transporters loaded with these sheep returned to Ramsgate and set sail again. However, the RSPCA, police, local authority and port authority were not told of the shipment.
The Jolene sailed late on Saturday afternoon with four lorry loads of sheep on board.
The RSPCA, along with Compassion in World Farming, is calling for the public to sign the petition to show the Government the strength of support to end the trade.
Meanwhile, the issue was raised in Parliament on Friday (November 23, 2012) by MP Roger Gale at the request of MP Laura Sandys, who has requested a backbench debate on the issue.
RSPCA chief executive Gavin Grant said: "We are now giving everyone a chance to join with our voice in calling for an end to this barbaric trade.
"Wednesday's crossing was nothing short of torture for these animals and, with the help of all those who care, we will fight to see an end to this. Please, add your name to our petition today and help these animals when they really need you."
Visit the Government's website to view the petition.
Image © RSPCA