A piece of equipment able to give a failure of passive transfer (FPT) diagnosis in 10 minutes has been hailed as "genuinely lifesaving" and could help streamline the workload of equine vets.
Absorption of maternal antibodies in a new-born foals is most efficient in the first 6-8 hours of life and effectively ceases after 24-36 hours, meaning vets have only a narrow window to recognise and act on FPT.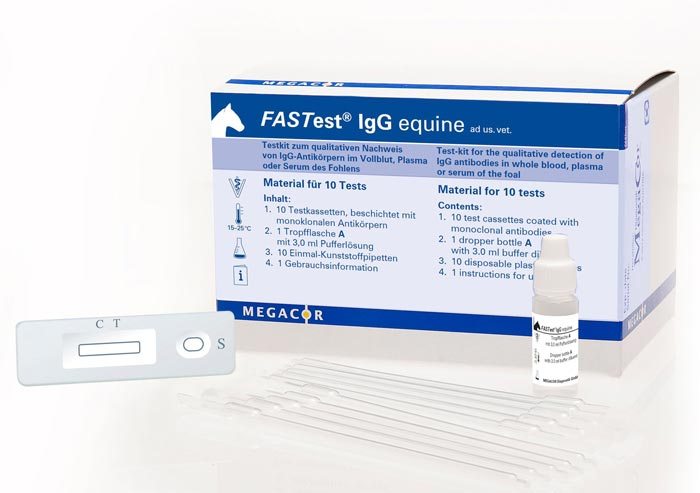 Foals with no antibody protection, due to complete FPT, have an estimated 75% chance of contracting debilitating or life-threatening infections, while approximately one in five newborn foals can suffer some degree of IgG FPT.
No additional equipment
According to manufacturer Vetlab Supplies, the FASTest IgG Equine Kit requires no additional equipment or refrigerated storage. The product also responds equally well with anticoagulant whole blood, serum or plasma.
Using an indirect semi-quantitative IgG antibody assay, the colour change clearly distinguishes normal IgG levels (more than 8mg/ml), partial FPT (between 4mg/ml and 8mg/ml) and levels generally considered diagnostic of complete FPT (below 4mg/ml).
Lifesaving
Mike Fleming, chief executive of Vetlab Supplies, said: "It's not often you get to launch an equine diagnostic that's genuinely lifesaving. With FASTest IgG Equine, vets can give a clear-cut FPT diagnosis at farms, stables or equestrian centres."
Speaking exclusively to Veterinary Times, Vetlab Supplies representative Les Ellison said: "It is the kind of thing a vet could carry in their kit.
"It ought to have quite an impact in that it's an 'in your bag' test you can have in the field. Within 10 minutes, the vet will have the result and can go back to caring for the horse."