Obese animals aremore likely to die from laminitis, according to a new study into the factors that affect the likelihood ofrecovery from the disease.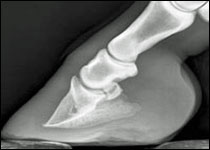 In the study – sponsored by the BVA Animal Welfare Foundation (BVA AWF) and Merial Animal Health -members of BEVA documented cases over four years and found that overweight animals which develop laminitis tend to have more severe signs than those of optimal weight.
Of the study conclusions, vet and principal investigator Celia Marr, said: "When laminitis does occur, overweight animals are more likely to die of the disease than their thinner counterparts.
"The animals with the best outcome tended to be those that had received acepromazine, a drug that improves the blood supply to the feet and relaxes the animal. Horse owners and vets are encouraged to ensure that horses and ponies are not allowed to become excessively fat as this can have a significant effect on their health, as we have seen in this study."
Speaking on behalf of the BVA AWF, chairman Carl Padgett said: "As the veterinary professions own animal welfare charity a key part of our activities is to fund academic research which will have a positive and practical impact on animal welfare. We were therefore delighted to support this study in recognition of the devastating effects that laminitis has on horse welfare."
Summary of the study:

107 cases of acute pasture-associated laminitis were recruited from first opinion practices to study factors associated with clinical severity, survival and return to ridden exercise;
83 per cent were overweight and there was a trend towards severe laminitis cases having a higher BMI;
Eight weeks after disease onset, 95 per cent were alive;
Lower body weight, optimal body condition, mild rather than severe laminitis and acute/chronic founder were significantly associated with survival;
The clinical outcome was judged by a panel of three veterinarians as good in 72 per cent of cases;
Clinical outcome was significantly associated with horse type; outcome was bad in none of the small horses compared with 34.1 per cent of large ponies/cobs, 32.4 per cent of small ponies and 30 per cent of large horses.