Results from Boehringer Ingelheim's 'Talk About Laminitis' campaign, which aims to get more equine vets to test for PPID in laminitic horses, finds peak season for affliction associated with Cushing's disease.
A campaign by Boehringer Ingelheim to get more equine vets to test for pituitary pars intermedia dysfunction (PPID) in laminitic horses has revealed new epidemiological evidence about the affliction and its connection with Cushing's disease.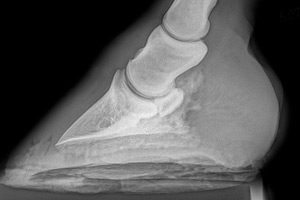 According to the company, its "hugely successful" 'Talk About Laminitis' awareness initiative has facilitated the testing of 16,000 horses for PPID since autumn 2011, while clinical data gathered from more than 8,000 horses during autumn 2012 and spring 2013 has indicated the peak season for laminitis associated with PPID is just around the corner.
Joanne Ireland, a veterinary epidemiologist from the Animal Health Trust, said data from the campaign has revealed a 50% increase in the proportion of laminitics testing positive for PPID in the autumn compared to the spring.
She said: "The take home message is that if you are seeing laminitis, with or without any other clinical signs of PPID, the probability of PPID being diagnosed in autumn is higher than during other times of year.
"This coincides with the seasonal surge in equine pituitary activity, which, using seasonally adjusted reference ranges, makes the basal adrenocoticotropic hormone (ACTH) test most sensitive between August and October."
With this in mind, Boehringer is encouraging equine vets to test for PPID in all laminitic horses by continuing to offer free ACTH tests from September 2 to November 30 (2013). The company will also be distributing a comprehensive guide to dealing with PPID in equine practice while its CPD website will be updated to include highlights of a equine endocrinopathies CPD meeting held at the University of Surrey.
For more information, contact your local Boehringer territory manager or call 01344 746959.