2013 edition of Blue Cross' annual National Equine Health Survey finds syndrome is more commonly suffered than skin diseases, obesity and back problems.
A survey has found lameness is the most common syndrome affecting the UK's horses and ponies, coming ahead of other issues such as skin disease and obesity.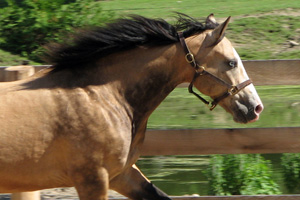 The 2013 edition of the National Equine Health Survey (NEHS) – run by animal charity Blue Cross in partnership with the British Equine Veterinary Association – found 18.6% of the 4,730 surveyed horses were suffering with lameness issues, and 14.8% of these were caused by degenerative joint disease.
Other findings from the survey – which saw a 21% increase in responses this year – include:
14.6% of horses suffer from skin diseases, with sarcoids being a prevalent tumour,
7.8% are overweight, while 4.1% are underweight,
back problems are suffered by 5% of horses, and
5% of horses suffer respiratory disease, the main cause of which is allergic respiratory disease.
This year's NEHS also asked respondents about vaccinations, which revealed that 95% of horses were up-to-date with influenza and tetanus jabs. According to Blue Cross, this figure is "much higher" than expected, as previous pharmaceutical data had suggested as few as 45% were vaccinated.
Equine professor Josh Slater from the Royal Veterinary College, who is responsible for analysing the NEHS results, said: "It is excellent that nearly all who completed the NEHS survey were also keeping their horse's 'flu vaccinations up to date.
"However the lower estimates of 'flu vaccination rates from other research remain concerning. With a mobile virus like 'flu any horse can be susceptible and herd immunity is vitally important to prevent the risk of serious outbreaks."
Blue Cross education officer Gemma Taylor said: "The significant increase in participants and the consistency of NEHS results over the past three years confirms the relevance of our work to the equestrian industry. We are particularly excited by the fact that colleges are now recognising the value of NEHS data, not only as a guide to study topics but also as important source material for students."
The NEHS was introduced in 2010 and is now an annual fixture in the equestrian sector. It is supported by Zoetis and conducted as an online snapshot survey of common health issues in horses.
For more findings from the survey, visit Blue Cross' website.