A three-legged lamb has had an ulcer treated after its owner used an emerging piece of technology.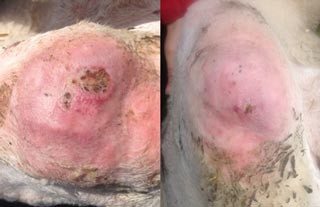 The Treat-Eezi pad – a pressure sore overlay for decubitus ulcers – was used by trainee VN Samantha Hullis when caring for the rejected lamb, called Eustace.
The animal had earlier undergone a leg amputation due to a joint infection and later developed a graze on his sternum, which developed into a decubitus ulcer.
"Thanks to the Treat-Eezi pad, which he started to wear, we have finally got on top of it," Ms Hullis said.
Clinically proven
The Treat-Eezi product, from UK medical company Dan Medica South, has, says the company, been clinically proven by the NHS to treat stages two, three and four graded ulcers and was recently introduced into the human and animal health sectors.
Dan Medica South spokesman Lynne Timm said."Our ground-breaking, unique technology allows animals and humans suffering from painful pressure sores/abscesses to be successfully treated using a simple pad laid in their bed.
"It has also been used in a coat for Eustace. Now we have healed a sheep's stage two ulcer, we are positive we can help more animals."
For more information, visit www.danmedicasouth.co.uk/product/treat-eezi-pet-pad-for-animals