Is your practice "doing some different" for BBC Children in Need 2009? If so, let us know (and send in your pictures). Nothing going on? Take a look at the numerous ways you can donate to this worthy charity.
Is your practice "doing some different" for BBC Children in Need 2009? Let us know what you're doing (and send in your pictures). The most interesting ones may even find themselves on Vetsonline or within the pages of Veterinary Times and VN Times.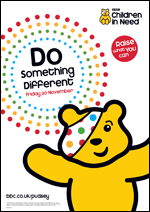 Nothing going on? Scroll down to take a look at the numerous ways you can donate to this worthy charity.
This year's BBC Children in Need appeal is more exciting than ever. Launched on September 21, the 2009 Appeal will reach its crescendo through the star-studded BBC One TV show tonight (November 20).
At the helm is Sir Terry Wogan who is celebrating his 30th appeal this year; he first hosted the show back in 1980 alongside the then darlings of daytime television, Esther Rantzen and Sue Lawley. This kick-started three decades of enthralling television entertainment.
At the heart of every appeal is an amazing army of fundraisers across the nation and this year their call to arms is "Do Something Different" – a challenge that invites inventive fundraisers to do something outside of their usual routine to help raise much-needed funds to help disadvantaged children and young people in the UK.
For those who like to get digital, Pudsey is ramping up his online presence; 2009 sees the launch of Pudspace, a new tool to help show support. From virtual bandanas and Pudsey skins for social networks, to Pudsey's Twitter feed and brand new Facebook fan-page there are more ways then ever this year to say "I'm with the Bear".
Last year, thanks to the amazing generosity of the British public, a record-breaking £37.8million was raised. This is currently being used to significantly enhance the lives of thousands of disadvantaged youngsters across the UK.
In the current circumstances there will be even more families falling into disadvantage and every donation, no matter how small, really does make a huge difference. The BBC Children in Need appeal is an opportunity for the UK to pull together at home, work or school, and do whatever is possible to support those in need.

David Ramsden, chief executive officer of BBC Children in Need, says: "Every year we are both humbled and inspired by the extraordinary lengths our supporters go to raise money, and we hope this year is no exception. This is why we are asking for your support again in 2009."
Since the BBC Children in Need Appeal started in 1980, over £525m has been raised to make a real and tangible difference to the lives of disadvantaged youngsters.
BBC Children in Need 2009: How to donate
You can call 0345 733 2233 (Calls to 03 numbers are charged at UK geographic rates – as for 01 and 02 numbers. Mobile and other providers' costs may vary).
You can donate online at bbc.co.uk/pudsey.
Most banks and building societies will accept a donation for a month or two after the appeal. HSBC will accept money all year round.
Or you can pay in money at the Post Office through 'FREEPAY 1066'.
If you have loose coins you can pay them in using your nearest Coinstar machine during the months of November or December. To find your nearest machine call 0800 328 2274 or go to www.coinstar.co.uk.
You can donate instantly using PayPal. Visit www.paypal.co.uk/pudsey for more information.
You can donate by paypoint – go to your nearest store and hand over the amount you would like to donate.
Please do not send cash by post. Send a cheque, postal order or CAF voucher to: BBC Children in Need Appeal, PO Box 1000, London W12 7WJ.